My favorite space aliens are back!
I created the characters of Eek and Ack for a graphic novels series. In each book, the terrible twosome were set on conquering our big blue home in some odd, yet silly way. There are five books in the series, with the last one, Eek and Ack vs the Wolfman, coming out a few years ago.
Not wanting these two to drift off into space like the Voyager probes—only to be heard from every now and then, I've created some new Eek and Ack chapter books. They contain much of the same silliness that made the graphic novels popular. They actually, kind of, sort of are prequels to the original stories. Not only are they for a younger audience, but their adventures focus largely on events on their home planet of Gloop.
When Eek and Ack's sister Bleck dares them to conquer Earth, they have no choice but to try. Things don't go as planned, as they end up zapping the wrong planet!
Ack has to write a paper about black holes, and he doesn't know a thing about them. Eek is there to show Ack all the ins and outs about these space vacuums!
Ack wants a pet, but he knows that Mom will never get him one. That's no problem. Eek will just make him one instead!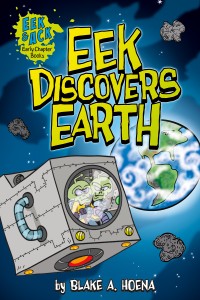 After observing earthlings, Eek decides to build a spaceship so that he and Ack can go conquer Earth. What will happen when their ship lands in the Sudsy Duck Laundromat?