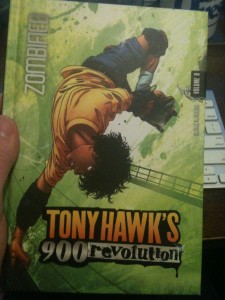 Just received my copies of Zombified, book 9 (written by your truly) of the Tony Hawk's 900 Revolution series, which was released earlier this spring.
It may be hard to think about skateboarding here in Minnesota with the April showers coming as snow. But this story also has zombies!
Summary: Once more beset by visions, Omar finds himself trapped inside one. The world he sees is vastly different than the one he left. In this post-apocalyptic vision, the Collective has defeated the Revolution. In their absence, the disbanded Revolution has been replaced by a group of tribes that skate in their honor. Omar searches for his friends, for the meaning behind this horrific vision, and for a way out!