I just wrapped up my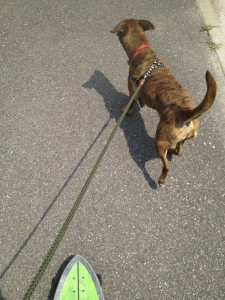 third book in the Live 2 Skate series, which is licensed through Tony Hawk and published by Stone Arch Books. The working title is Bombing, as the main character, Lei Tían, is a longboarder. She wants to impress upon her friends that longboarding is just as respectable as trick skating, even if she can't Ollie. So she bombs down a steep street know as "The Hill" and breaks into a powerslide at the bottom to wow her friend.
To celebrate the completion of this book, I decided to hit a skatepark myself. I bought a cruiser (a hybrid between a trick board and a longboard) earlier this summer to get back and forth between the library and to help wear out my pooch, Ty. She loves breaking out into a full on run and pulling me along as I carve behind her somewhat like a waterskier. But I have never been to a skatepark before to actually skate.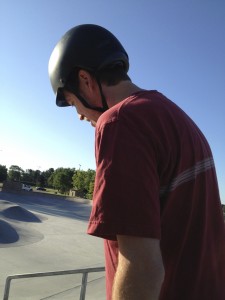 So here I am, prepping for my first drop in. Even though I've watched videos on how to do this simple move, I ended up on my butt the first (and second) try. And while I didn't do any tricks beyond some kickturns and riding over rollers, I still had a blast, and will try it again sometime—after my wounds heal.