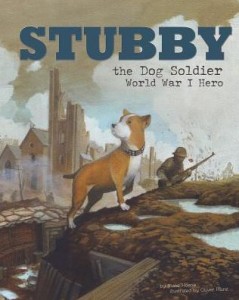 As a bit of a history buff and a dog lover (just ask my spoiled pooch Ty), I jumped at the chance to write a picture book about Stubby, a dog who truly shows how heroic and loyal are canine friends can be.
This book was released earlier this summer and features some fantastic art by Oliver Hurst.
Summary: A stray dog named Stubby braves the World War I battlefields alongside Private J. Robert Conroy. See the story unfold as this brave little canine makes a big difference in the lives of many World War I soldiers.