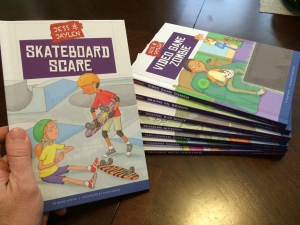 Just received my comp. copies for the eight books in my Jess & Jaylen series. These two big-city third graders have been friends forever. They live just down the block from each other. Jess is the sporty one while Jaylen is more on the brainy side. Their love of skateboarding and hanging out at Jake's Pizza lead to many adventures.
Brains vs Brawn: Jess and Jaylen's friendship gets tested when they struggle to agree on summer activities they can both enjoy.
Coming Clean: Jaylen accidentally breaks his brother's phone. He could hide what he did and let his little sister take the blame, but the guilt is eating him up.
Halloween Scream: Jaylen designs a Halloween to help him and his friends get through the scariest of all haunted houses.
Museum Mystery: On a school field trip to the museum, Jess and Jaylen try to solve the mystery of a missing camera.
School Bus Bully: A new boy moves to the neighborhood. He's a bully and threatens to do bad things to Jaylen's face.
Skatebaord Scare: Jess takes a spill on her skateboard, and Jaylen needs to help her get her confidence back before the skateboarding contest.
Trouble With Cheating: Jess is worried about asking Jaylen for help on her math homework, so she cheats instead. But Jaylen's teaches her that it's okay to ask for help.
Video Game Zombie: Jaylen gets a little too involved in the video game Jess gave him for his birthday. It's starting to affect their friendship.