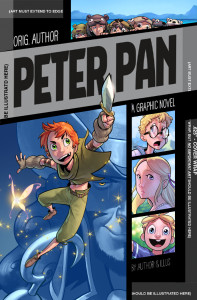 Every now and then, my editors send me teasers of the books I've written, whether it's sketches of the illustrations or a mock up of the cover. I always enjoy seeing my books come to life through the art work, so it's great to get a glimpse into how things are progressing.
Early last year, I finished up a graphic novel retelling of Peter Pan. I believe it will be released this summer. And not long ago, my editor sent me this mock up of the cover. The book is being illustrated by Fernando Cano. He illustrated my Tony Hawk—Live 2 Skate books as well, and I love his work. His style is really capturing the playful feel of my retelling.
Can't wait to have a copy of the printed book in hand.