Last weekend, I headed home for a nephew's high school graduation. And while I could have crashed on somebody's couch or stayed in a hotel, my first instinct is always to look for a place to camp. Camping and fishing were some of my favorite summer activities as a kid. Heck, I used take my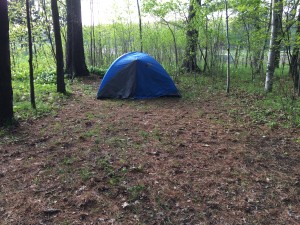 grandfather's old canvas tent, which he got it in the military, and set it up in the backyard. I'd sleep out there often as my parents would let me.
So this trip was no different, and I pitched my tent at Collins Park, a park I spent a lot of time at as a kid. I stayed at a car camping site since I was only there for one night and didn't want to go through the work of hiking into a remote spot.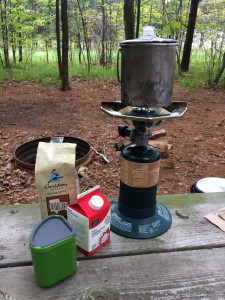 Whenever I go camping, along with some of the basic supplies needed to survive, like bug spray—the mosquitoes were thick—I bring books. Usually I load up my Nook as I don't want to carry around too much. There's just something incredibly peaceful about sitting in the middle of the woods and loosing myself in a book. This trip, I choose to dig into the Heroes of Olympus series by Rick Riordan. I enjoyed Percy Jackson and the Olympians so figured I made a good choice. I read through book 1 on day one, and then the next morning, as my coffee was brewing, I started book 2.
They are nice light reads—great for that down time between hikes or while sitting around the campfire waiting to make S'mores. And I'm sure I'll finish book 2 before my next camping trip.