In grad school, at Minnesota State University, Mankato, friends and I would hit Mavericks' hockey games whenever we got the chance. As students, we got in free, which was about all we could afford at that time in our careers. While I can't claim to be a huge hockey fan, the games were a blast, sitting behind the opponents' goal and harassing the visiting team.
But I must admit a guilty pleasure in seeing the Zamboni roll out between periods. Ever since I was a kid, I have been fascinated with how this odd-looking, slow-moving machine worked. Not to mention, I'd be shouting along as the Gear Daddies classic "I Wanna Drive a Zamboni" blare over the arena's speakers. When younger, I was envious of the person getting to drive it around—probably still am a little jealous.
So when given the assignment to write a graphic novel The Science of Hockey, I knew I had to dedicate a spread to the Zamboni.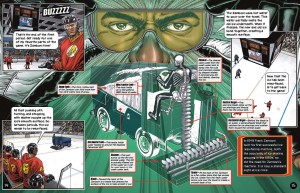 My book is be part of the Max Axiom, super scientist series. And one futuristic device Max possesses is X-ray glasses. I thought he could use them to take a close look at how a Zamboni works. And since someone would be driving it around the rink at the time, I asked the illustrator to show the skeleton of the driver, something I thought was a humorous touch.
The Science of Hockey will be released this summer.