Last fall was a busy, busy time for me, and so it's looking like August and September are the months that all my hard work will come to fruition. I have many, many books being released, starting with my Monster Heroes series. These books are a mashup of two of my favorite things to write about: monsters and super heroes. Will (the ghost), Mina (the vampire), Linda (the witch), and Brian (the zombie) are friends who share a big secret. Instead of haunting people, sucking their blood, cursing them, or eating their brains, these four monster want to be like super heroes and protect people. Each of them has a special talent that they put to good use to help save day!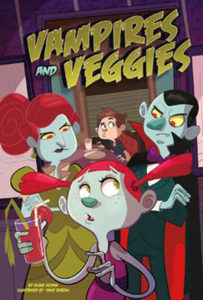 The Ghost Trap: Most ghosts love to scare people. But Will is not most like ghosts. He is shy and quiet and hates attention. When he hears other ghosts talking about haunting an old house to scare kids, he knows he needs to stop them. See if Will is brave enough to stop the scary ghosts.
Veggies and Vampires: Mina is a vibrant, veggie-eating vampire who hates blood. As you can imagine, this is a problem. Mina's parents invite humans to dinner to test Mina's vampire skills. Find out if Mina is able to keep her secret.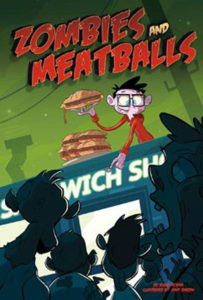 Witch's Brew: Linda is a good witch. Sadly, most witches aren't like Linda including her scheming sisters. They have created a new evil potion and are ready to use it on innocent pets. Can Linda and her friends stop her evil sisters?
Zombies and Meatballs: Most zombies are not very smart. However, Brian is different. He is a smart, book-loving zombie. When a zombie horde gathers, Brian knows nobody is safe. Can Brian stop the dangerous zombie horde? Better yet, can he stop them by using meatballs? Follow Brian through this crazy adventure.