Friends and family know that while I was growing up, I loved fantasy stories—still do! I read tons of stories about dragons and knights, heroes and monsters. Reading those types of books actually inspired me to start writing my own stories. So I was more than excited to team up with fellow author and friend Sean Tulien to write about the adventures of two unlikely heroes: nine-year-old knights Thud and Blunder. There are dragons, knights, ogres, wizards, and lots of silliness.
The Not-so-Helpless Princess: Thud and Blunder are hired by the king to travel to Castle Kidnap't and rescue the princess from a band of ogres. Only, the princess is not as helpless as they are led to believe, and she's not the one who needs saving. The ogres are deathly afraid of her. But Thud and Blunder have been hired to do a job, which they hope will lead to fame and fortune.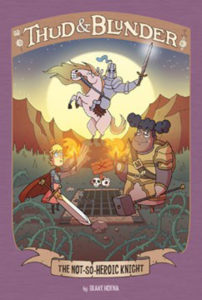 The Not-so-Heroic Knight: A knight in shining armor asks Thud and Blunder to join him on a heroic quest! He is head to the Sand Witch's lair that is filled with treasure.How can two nine-year-old knights in search of adventure turn down such a Great Opportunity? But they quickly learn that their idea of adventure is different than their not-so-heroic companion.