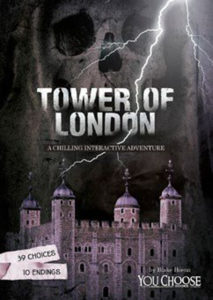 Most everyone likes a scary ghost story. Now you can experience one in a choose-your-path book.
With its 1,000-year history, the Tower of London is considered to be one of the most haunted places in the world. Queen Anne Boylen was beheaded on the Tower Green, a lawn within the fortress's walls. Hundreds of years later, visitors claim to have seen her ghostly funeral procession marching toward the Chapel Royal of St. Peter ad Vincula. Then there are rumors of a ghostly bear wandering the grounds. It is believed to have been part of the Royal Menagerie, a collection of exotic animals that kings and queens kept at the Tower.
And those are just a few of the ghosts that you will encounter in my latest release, Tower of London: A Chilling Interactive Adventure.