When my sister's boys were just little guys, we'd go on summer camping trips. With three nephews and three uncles, it was a great bonding time. And one of the things we bonded over was telling and making up jokes. On of my faves:
Q: What do you do if you get swallowed by an elephant?
A: Jump up and down until you are all pooped out!
On one long car ride home, I remember doing the good ol' interrupting cow joke. Only, we expanded it for every animal we saw: interrupting horses, interrupting roosters, and even threw in some interrupting uncles and interrupting nephews. After a week of camping with each other, we all had fodder for some friendly teasing.
That experience inspired me to write one of my latest series: Jokes and Jingles. I take classic knock-knock jokes and expand them into full stories, which were then put to music.
Boo Hoo?: A twist on the "Boo Who?" knock-knock joke in which a group of kids play hide-and-seek.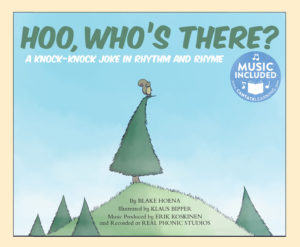 Hoo, Who's there?: Peter the Squirrel goes scampering through the woods looking for Ollie the Owl. He's listening for his friend's familiar "Hoo Hoo."
Knock, Knock Moo!: While doing his chores, the farmer's animals play jokes on him.
Orange You Glad?: Susie wants a snack, but all she can find is an annoying banana that follows her around the house.