Everyone who knows me knows that I'm a mythical nut, as in I dig mythology, seen Clash of the Titans (about 100 times), read Rick Riordan's Percy Jackson's books, and plan to go to Greece one day to see all of the ancient ruins. So it will come as no surprise that I have two new books based on mythic heroes: Jason and Odysseus, and their famous quests. They are also in the choose-your-path format. Readers get to imagine that they are on an epic adventure battling fearsome monsters.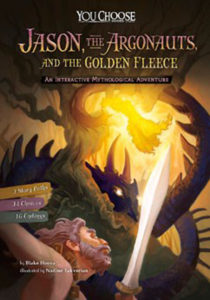 Jason, the Argonauts, and the Golden Fleece—You are the mighty Greek hero Jason. Along with your crew of Argonauts, you are setting sail in search of the Golden Fleece. But your journey will not be easy. Sea monsters, powerful witches, and deadly beasts stand in your way. Can you survive and bring the Golden Fleece back to your kingdom?
The Epic Adventures of Odysseus—You are the mighty Greek hero Odysseus. The Trojan War has made you a hero. But now you must return home to your island of Ithaca. The journey back will not be easy. Deadly sea monsters, cunning witches, and a giant Cyclops stand in your way. Do you have what it takes to survive and make it back home?