IN THE WORKS
Jake Maddox
Doubles Trouble, 2018.
Block and Rock, 2017.
Max Jupiter
Solo Mission, 2017.
Trapped at Space School, 2017.
RECENT PUBLICATIONS

Thud & Blunder
Thud & Blunder are 9-year-old knights looking for an adventure.
Not-so-Helpless Princess, 2017.
Not-so-Heroic Knight, 2017.
Monster Heroes
Will, Linda, Mina, and Brian aren't like other monsters. They don't scare people, curse them with spells, drink their blood, or eat their brains. These four monsters want to be like superheroes and save the day!
The Ghost Trap, 2017.
Vampire and Veggies, 2017.
Witch's Brew, 2017.
Zombie and Meatballs, 2017.
"Hoena's playful sense of humor and Bardin's Cartoon Network–ready illustrations keep these three-chapter stories quick moving and entertaining" — Publishers Weekly
Jake Maddox JV
Heavyweight Takedown, 2015.
Jess and Jaylen
These two big-city neighbors have been friends for as long as they can remember. They enjoy hanging out together whether dressing up for Halloween or hitting the skatepark.
Brains vs Brawn, 2015.
Coming Clean, 2015.
Halloween Scream, 2015.
Museum Mystery, 2015.
School Bus Bully, 2015.
Skateboard Scare, 2015.
Trouble with Cheating, 2015.
Video Game Zombie, 2015.
Tony Hawk's Live 2 Skate
Eek and Ack
(based off my graphic novel series)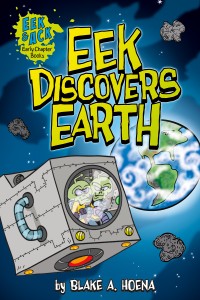 Tony Hawks' 900 Revolution
Zombified, 2013.
Amplified, 2012.
"This series is like NCIS for 'tween boys." — VOYA
DC Super Heroes (chapter books)

Captain Boomerang's Comeback, 2012.
Cosmic Bounty Hunter, 2011.
"Lobo is a great villain . . . Action packed from start to finish." — Back to Books
Harley Quinn's Shocking Surprise, 2010.
Livewire!, 2010.
Poison Ivy's Deadly Garden, 2009.
Under the Red Sun, 2009.