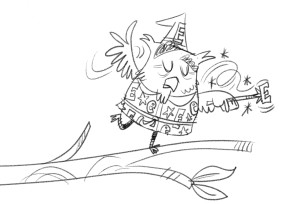 Recently, I've been working on a series of books involving Magic E, an owlish wizard who knows a little word trickery. With a wave of his wand and a flick of his wrist, he changes the vowels sounds of words like pin, tub, can, and cap by adding an E to the end of them.
The book in this series are going to be outlandish stories with some fun word play. In one story, Magic E sends Tim the porcupine back in time—get it, add an e to Tim and you get time! In another, he teaches a cod to read secret codes. Chuck the Duck goes from being a dud to a cool dude, and Sam has his cap turned into a magical cape.
These stories really allowed me to let some of my goofiness out into the world. And to top it off, I once again get to work with the amazing Luke Flowers. He's illustrated my retelling of The Muffin Man, and also worked on a few titles that will be coming out this summer. His work is incredibly fun, and from the initial sketch of Magic E, I can tell he's going to capture the playfulness of this series.
Stay tuned for more.